Financial Planning
It's Time to Talk - About your Financial Future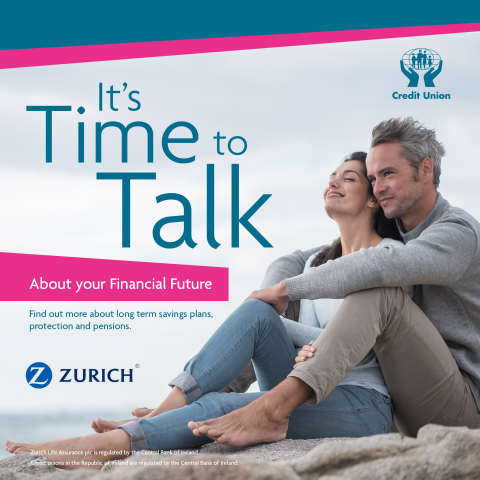 In order to help credit union members to plan for their financial future, Portarlington Credit Union has collaborated with Zurich, one of Ireland's most successful life and pension providers, to introduce you to a great range of financial planning solutions. Zurich Life provide three unique products for you to choose from, depending on your financial priorities.
LONG TERM SAVINGS & INVESTMENTS
Whether you're looking for a long-term savings plan or to invest a lump sum, Zurich have lots of different options, depending on how you wish to save and what you're aiming for.
LIFE PROTECTION
Life can be unpredictable, but with the right life insurance cover in place, you'll always have peace of mind. Whether you're looking for protection for your family, or cover for your business, Zurich can help you find the right life insurance plan for you.
PENSIONS
Starting a pension plan is one of the smartest decisions you can make. It could help ensure a brighter, better future to look forward to in retirement. When you're choosing a pension, having all the information you need to help make your decision is important. Zurich will make it easy for you to select a pension that's right for you.
The next step is to complete the request a call back form by clicking here or you can contact Zurich directly on 1850 804 074 or email creditunion@zurich.com.
Frequently Asked Questions
What happens after I make contact with Zurich?
A Zurich Financial Planner will explore your needs and will develop a financial plan tailored for you.
Will I need to physically meet a Zurich Financial Planner?
No. Face to face contact is not necessary in Zurich's advice process, and this is of particular benefit and reassurance given the current challenges we all face from the Covid-19 pandemic.
Zurich will arrange all financial products for you over the phone, via email or through a video call. Information can also be issued to you and returned to a Financial Planner via post.
What information will I need to provide to Zurich?
Zurich will need to gather some personal and financial information from you in order to assess your circumstances. Zurich are required to do this under the consumer protection code but more importantly, it allows them to highlight the best solution from their range of products.
How long will the overall consultation take?
Typically the information gathering, needs assessment and our recommendations of any products will require 2 – 3 interactions between you and Zurich's Financial Planner.
Does this affect my membership of the credit union in any way?
No. As long as you retain some savings within the credit union, you will continue to be a valued member and enjoy all of the membership benefits which we provide.
If you purchase a Zurich product through this collaboration you will become a Zurich Life customer and your dedicated Financial Planner will continue to be available to you after the initial advice process. You will also have access to Zurich's online customer centre, which allows you view your personal dashboard 24/7.
WARNING: THE VALUE OF YOUR INVESMENT MAY GO UP AS WELL AS DOWN
WARNING: IF YOU INVEST IN THIS PRODUCT YOU MAY LOSE SOME OR ALL OF THE MONEY YOU INVEST.
Zurich Life Assurance plc is regulated by the Central Bank of Ireland.
The Irish League of Credit Unions is regulated by the Central Bank of Ireland.
Portarlington Credit Union Limited is regulated by the Central Bank of Ireland.